About PFM
Why PFM?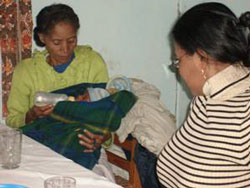 What, another non-profit organization? And why are they working so far away in a country that has nothing to do with ours?
With the threat of global warming and dwindling global resources, we are discovering how inter-connected life really is and how all humanity must depend on each other.
Partners for Madagascar (PFM), seeks to reverse the trend from exploiting developing nations to helping communities create effective partnerships that educate toward solving local problems and leading them to self-sufficiency.
With this approach, PFM fosters grassroots movements toward inter-dependence and creates models for other communities to promote self-development.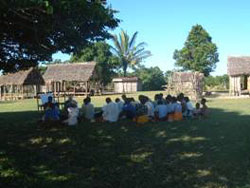 Who are We?
Partners for Madagascar is a non-profit organization based out of Florida, USA with a field office in Madagascar. This 501c3 began in 2005 and relies on financial donations of individuals to carry out its projects. PFM's focus is helping the people of Madagascar build a sustainable livelihood to help themselves and their country.
We combine first-hand knowledge and onsite experience in Madagascar with an established network servicing humanitarian organizations assisting children, youth, and families at risk.
Clint Akins, President, and Yolande Fanjanirinarivo, Field Director, bring a life-long wealth of experience and knowledge of the Malagasy history, culture, needs, challenges, and resources to PFM's leadership.
Our USA Officers are professionals with proven successful records. Our Board of Directors and Advisory Council are professionals in the fields of corporate law, business, education, computer technology, and science.
An extensive Field network of Malagasy leaders and community workers, throughout Madagascar, implement PFM's Mission in coordination with our home office staff.


Locations
PFM board meeting in Fort Walton Beach, Florida, USA




Partners For Madagascar's home office is located in Fort Walton Beach, Florida, USA:

Mailing Address: Partners For Madagascar
P.O. Box 1196, Fort Walton Beach, FL 32549

Phone: (850) 243-3067

E-mail:


Malala and Justin at the PFM office in Antananarivo, Madagascar

 

Partners For Madagascar's Field Office is located:

Cité 1784, 67ha Nord-Est, Antananarivo, 101 Madagascar
Who are the Partners?
Our

Malagasy Partners,

are community leaders in Madagascar whose job is to manage projects that will fulfill the mission of PFM.

Our G

iving Partners

either donate themselves, time, or their resources to make sure PFM's mission projects are achieved.

Our

Leadership Partners

are those who work for PFM to provide the professional guidance needed to achieve the organization's mission.


Future of PFM
The future of PFM rests on our ability to be accountable to our resource partners; both those who help us financially, and those who implement our projects in the field.
That accountability has to be translated into results which will produce self-sustainability (that PFM's projects an be models for other communities to create their own infrastructure that no longer depends on outside intervention).


PFM Services
In Madagascar
PFM protects the lives and secures the futures of numerous children and infants threatened by tribal taboos.
PFM supports the work of developing world higher-education by seeking financial help to provide for the infrastructure of HECMMA. The name HECMMA is a French anagram that stands for Higher Education in Management and Applied Mathematics (Engineering). HECMMA is the first private, non-sectarian, government-accredited university in Madagascar.
PFM strives to provide the following for HECMMA:
1. scholastic equipment
2. textbooks in English
3. providing personnel to teach following:
- English as a Second Language
- communication
4. Providing personnel to lead technical seminars in:
- leadership
- engineering, mathematics, business, marketing, management, and other technical topics
PFM provides protection and a secure future to abandoned children through its children's centers. In addition, these centers educate the community and families in their responsibilities.
PFM helps rural peoples and families remain in their traditional homelands by developing rural schools and youth training centers.
PFM provides tours of Madagascar originating in the USA and in Europe.


Outside of Madagascar
PFM offers a tangible way to channel deep compassion for those who need help the most, by those who know how to give that help in the most effective way.
PFM provides cross-cultural education to groups, schools, and religious and community organizations. PFM offers training in short-term work trips to other cultures and countries. PFM's staff has over 30 composite years of experience of effectively working cross-culturally and in developing-world cultures.