You Can Help
PFM needs financial partners, both personal and corporate, who believe in its vision and mission.
Your gifts, whatever the size, can make a huge difference in changing the lives of many people.
You should never underestimate your impact. What you may think of as a small gift can make the difference in a Malagasy child finishing school or a Malagasy young person learning a life-sustaining skill.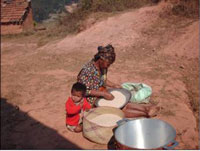 Don't convince yourself that your gift is not enough, until you see what it can do.
PFM has no foundation or funding behind it. Its work does depend on the gifts of those who believe in its vision and mission.
Kinds of Donations
Operational Needs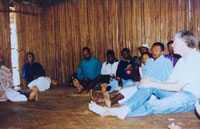 These funds drive PFM and take care of administrative costs, like this website you're reading and newsletters that provide updates on PFM's progress and field challenges.
To enable and empower PFM in this way, gifts should be marked "Operational Needs."
Field Administrator, Malala, shows Bao Philomene, PFM worker, how to use a cell phone from the Malagasy rain forest.
Project Needs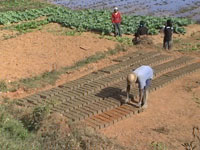 PFM's field projects are most important part of PFM. They are where the people are.
If you mark a gift for "Projects," we will apply it to the most needy project(s) or the highest priority project(s).
Volunteers
Partners for Madagascar welcomes all individuals with general or special skills to assist us, here in the United States or in Madagascar. Please with your interest and skills.
Tours
In the near future, tours of PFM's work, prospective projects (as well as the major historic and natural sites) in Madagascar will be offered to student groups, prospective donors or volunteers and associates.